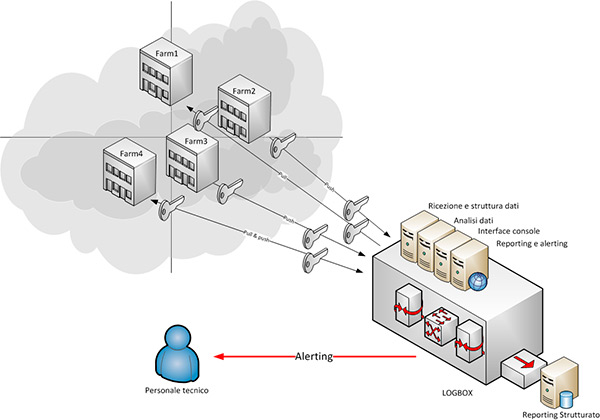 REMOTE MONITORING AND ZERO TIME TROUBLESHOOTING SERVICES
A service called Logbox is available to all clients with whom ongoing internal and external consulting relationships are established. Logbox is an analysis system developed internally which receives signals from the servers/networks of the clients by means of general and targeted notifications.
The two kinds of technologies supported are: pull and push. Pull technology: events generated by software and services within the company which send status and operational alarm reports to the central analysis system. This is done using mail, syslog, snmp traps. Push technology: the client's systems are monitored by agents using remote access who produce data in real time on the condition of the controlled services. The access/monitoring methods are multiple, but almost all are based on SNMP, WMI, and powershell. Both types of communication do not require the installation of specific software at the client's premises. Both methods generate reports and alerts. WINDSTYLE personnel or client's staff use the results to analyse the structure, and carry out emergency assistance in the event of operational anomalies. The structure is provided with a series of measures including communication channel data and storage security, and failover on more monitoring systems and increased connectivity. Overall, the service is guaranteed with a 98% SLA and in medium and high complexity structures it is an essential tool for troubleshooting and good network maintenance. Principal monitoring platform: System Center Operations Manager 2012 and System Center Configuration Manager 2012
Il servizio viene fornito ai soli clienti diretti su contratto a costi forfettari annuali e non è destinato all'outsourcing, o all'uso da parte dei partner.
Il rapporto umano é una componente indispensabile per una proficua collaborazione